Shinmuso-Hayashizaki-ryū
---
_–²'z—э藬 was originated by the father of Imai, —эθr•dM. He thought there must be the reason of victory at the indication to take out the long and short swords when those two are bore. He invoked 100 days at |‰ͺ—э薾_ to discover the reason. And the 100th day he dreamed Šο‰φδݎšŒ•. He invented the root of 'Ύ"'Ε and denominated _–²'z—э藬.
There are ŒόgA‰EgAΆgAŠO•¨AŠO•¨‹–A"ρ•ϋ‹lAŒά‰Σ"V'Ύ"A"ͺ‰Σ"V'Ύ" and others.
For training the feat is winning with the 3ŽΪ3''·Œ• against 9'5•ͺ¬".
Shinmuso-Hayashizaki-ryū Sōke@Toru Ishizaki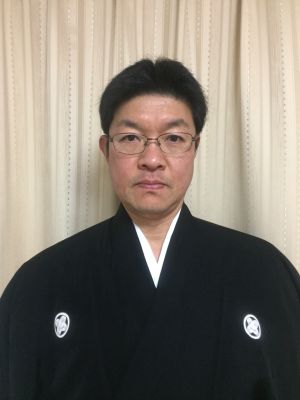 Genealogy


From the ancestor, —¬'c—эθr•dMsucceeded to "c‹{•½•Ί‰qΊν who became refined.
After '·–μ–³ŠyβVžΫ˜I succeeded, then ˆκ‹{Ά'Ύ•vΊM, 'J¬Ά‰q–ε‹G³, νˆδŠμ•Ί‰q'Ό'₯ kept the school. With this school 'Ό'₯ served 'ΓŒyM­Œφ, later M­Œφ himself became refined, too.
Then σ—˜ˆΙ•Ί‰q‹Ο˜\ succeeded.
In Tsugaru Domain it has been spread out among Bushi, including "c'†'y‰E‰q–εŽ'Œ«,'–ۍΆ‰q–εŠ°–ž,'"ͺ˜Y‰E‰q–εŠ°—˜,'"ͺ˜YŽŸŠ°O,η—t'XˆΑ,η—tŒ'"V•.
ωX‡'' invited η—tŒ'"V• to learn while he was the president of "Œ‰œ‹`m.
ωXŒš"ό learned from his father, ωX‡'' and he received its inheritance as the only one heir in 1956.
Ξθ"O learned from ωXŒš"ό and named as _–²'z—э藬@‰Ζ on October 1 2017.

_–²'z—э藬³"Œn}

—эθr•dM|"c‹{•½•Ί‰qΊν|'·–μ–³ŠyβVžΫ˜I|ˆκ‹{Ά'Ύ•vΊM|'J¬Ά‰q–ε‹G³|νˆδŠμ•Ί‰q'Ό'₯|σ—˜ˆΙ•Ί‰q‹Ο˜\|"c'†'y‰E‰q–εŽ'Œ«|'–ۍΆ‰q–εŠ°–ž|'"ͺ˜Y‰E‰q–εŠ°—˜|'"ͺ˜YŽŸŠ°O|η—t'XˆΑ|η—tŒ'"V• |ωX‡''|ωXŒš"ό|Ξθ"O

Profile
November 6,1968
Born in Tokyo
April, 1987`
Learn Kendo and Ono-ha Ittō-ryū at Waseda University Kendo Club.
2009
Learn Ono-ha Ittō-ryū and Shinmuso-Hayashizaki-ryū from 17th Sōke Sasamori Takemi.
May 10, 2017
Received the whole certification of Ono-ha Ittō-ryū
October 1, 2017
Named as Shinmuso-Hayashizaki-ryū Soke by Sasamori Takemi
I dedicate whole my life to embodying amity and comity (enman ‰~–ž) as conveyed by Sasamori Takemi.
Director of board, Reigakudō
Professor of business administration at Senshu University
Advisor for Kendo Club of Senshu University
---